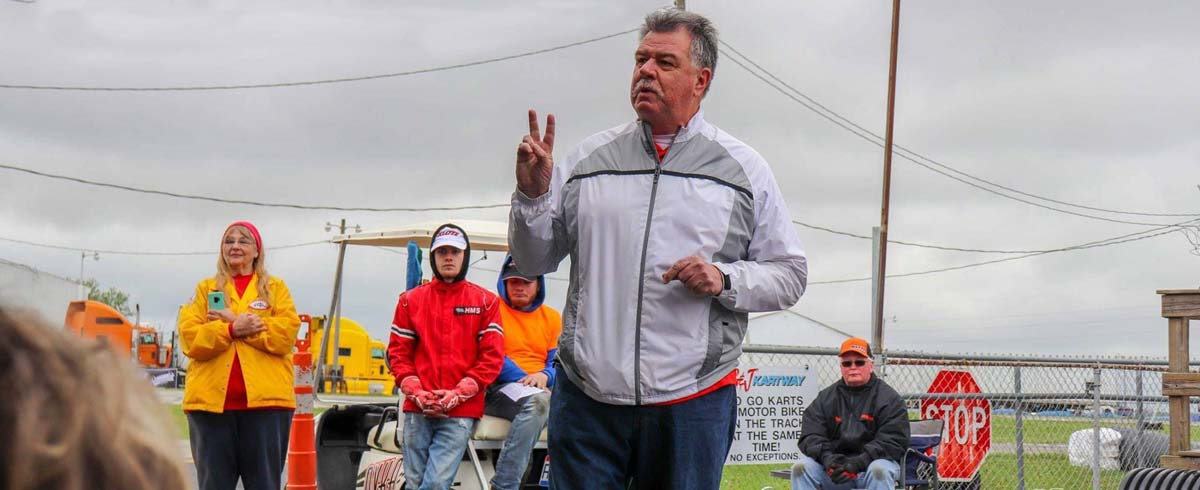 Randy and Racin'
Took my first ride in a go kart 1959 at five years old. Back then it was called a track rabbit. It was my brothers kart and I could not reach the brake when it came time to stop. My brother had to grab the rear bumper and pull me to a stop.
Started racing quarter midgets in 1962 at my parents go kart track (Linden Valley Raceway) and raced them for two years. In 1964 raced my first kart at our home track. Began racing other tracks in 1966. Dart Kart Speedway in Mansfield, Ohio-Hasselbach Kart Track in Fremont-Crescent Raceway in Toledo, Ohio.
In 1967 I raced my first big race. It was the Winternationals in Barnesville, GA and finished 5th in Modified Jr.
1969 was Winternational Champ at Barnesville IKF Winternationals in Reed Jr. and finished 3rd at the IKF Grand Nationals in Camden, Ohio in Reed Jr.
1972 began racing B-Limited in WKA finishing top fives at National and Winternational events for the next few years.
Began racing Enduros in the late 70s. Never had much success but had a whole lot of fun.
Last competitive race was 1988 in Charlotte driving a Sprint Sit UP kart for Chuck West.
Have been a racing enthusiast since I was 5 years old. Attended the Daytona 500 with my parents from 1963 for the next 10 years.
Attended my first Indy 500 in 1974 won by Johnny Rutherford.
Racing Heroes Johnny Rutherford and Ricky Rudd.
My Top Karting Driver of all Time Kyle Adkins
Favorite karting track Dart Kart Speedway Mansfield, Ohio (and naturally Kugler Raceway Park)
Favorite racing memory winning Barnesville in 1969 beating karting legend Randy Fulks
About Randy
Announced my first race when I was 15. The regular announcer could not make it and my Dad told me I was not racing that night because we needed an announcer.
From that point it was something I really enjoyed. I began announcing more races and as time went on was helping to conduct awards banquets as well.
From 1997 through 2001 I worked as the Public Address Announcer at Charlotte Motor Speedway alongside the legendary Bill Connell. Probably learned as much about announcing from Bill as anyone I ever worked with.
Through the 1980s I served on the WKA Board of Trustees. In the early 1990s I became Vice-President of WKA serving under my Father George Kugler who was President.
1994 my Father died. From that point until 2007 I served as President of WKA.
I stepped down from that position in 2007 and have enjoyed a career in Health Insurance sales that is ongoing.
I still maintained my passion for karting and motorsports. I was Public Address Announcer for the first 3 years of the highly successful United States Pro Kart Series (USPKS)
I currently am the Public Address Announcer for the Battle at the Brickyard at the Indianapolis Motor Speedway, the Quincy Grand Prix, and the Elkhart Grand Prix. I also announce select events for the Buckeye Karting Challenge.
In 2020 I had he opportunity to also announce the Goodland Grand Prix and the WKA Sprint Nationals.